(Content Note: Sexual violence)
I've reached a point in my life where I understand how the political informs the personal, and vice versa, but my healing practice – as a queer Black survivor of childhood sexual abuse and so much systemic injustice – requires me to attend to my personal healing and liberation more directly.
For example, I was a closeted girl child raised in US America, South Carolina specifically, a state often erased from conversations of liberation politics and legacies of cultural trauma.
South Carolina is the only southern state without a Civil Rights museum, yet as a child, my school took frequent trips to Brattonsville, a historic plantation with African-American slave re-enactors. This is the state where Senator Strom Thurmond held office until his death in 2003 and Bob Jones University held on to its interracial dating ban until year 2000.

From early on we were introduced to systems and legacies of horrific anti-Black oppression, but we were offered little opportunity to understand the trauma we were incurring, to examine the ways those legacies bled into the world we exist in today, to think about all the ways those legacies were being protected by current legislation and resource distribution, and to imagine what healing and liberation could look like for us on any level outside of a church.
My sexual violation was facilitated by the same systems that racially dehumanized me on a daily basis. My father's devaluation of me was cultivated through centuries of devaluation and assault against Black female bodies and queer bodies – such as the raping and breeding of Black women, and our surrogacy for White children, even though we were unable to take care of our own children – the remnants of which are reflected in men like Daniel Holtzclaw and R. Kelly.
When existing at my various intersections of identity and oppression, that work is political.   
Trauma and abuse, validated by systemic oppression, have taught me that I'm "unworthy" – unworthy of my own love, my own humanity, and my own feelings.
For example, sexism taught me that as a woman, I'm not worthy of safety and dignity when a man sexually objectifies me because of my sex and gender. Both racism and misogyny have taught me that I have no right to be angry when subjugated, lest I come off as an angry Black woman.
Hell, systemic trauma has taught me that I am unworthy of myself.
For me, the most radical thing that I can do in the face of oppression is love myself, and part of the way I cultivate self-love is through the practice of healing.
One way that I cultivate healing is by carving out my space for my own narrative within systems that try to erase me.
This article details lessons I've learned, and am still learning, throughout my own healing journey. What works for me may not work for others, especially since everyone doesn't have access to the same resources.
1.

 

Healing and Liberation Are Not Goals or Destinations
I have often thought of both healing and liberation as "goals" rather than practices. A final destination, so to speak. Like, one day I'll suddenly wake up and it is over.
But I now understand that life is a journey, so as long as I'm alive, I'm in some form of movement.
Still, I often get frustrated with both myself and my process. When depression, flashbacks, nightmares, and loneliness hit, I think, "Why am I not yet healed/liberated from my trauma?" It seems like I make it out of one storm only to be (eventually) confronted by another, though not always at the same intensity.
I felt like maybe I was doing this whole "healing" thing wrong.
I believed that I was supposed to reach a point where it not only ceased to hurt in the moment, but it never hurt again. 
As I learn new ways of managing and being, addressing the impact of trauma becomes less laborious. It is still work, but I feel less consumed.
For me, feeling healed/liberated is a "way of being" cultivated through practice. I have only experienced the feeling of "healed" in the practice of healing itself. I have only felt "liberated" in the process of liberation.
For example, writing is both healing and liberating for me. I notice this feeling during the process of writing itself. Just as learning is a lifelong process, so are healing and liberation. They are pursuits that require constant dedication, not fixed states.
2. There Is No Such Thing as 'Overcoming'
I have often been compared to a Phoenix who "rose" from the ashes of trauma. But I don't believe that the Phoenix dies without asking why it had to burn in the first place.
I don't believe in a model of "resilience" that assigns more value to the well-manicured, palatable face of trauma and oppression than questioning the circumstances that perpetuate injustice.
Often, I've felt that the notion of "overcoming" eases the consciences of oppressors (and those who facilitate oppression). The notion of "overcoming" can negate accountability for those who perpetuate injustice because, "LOOK! If a person is resilient, nothing can stop them."
The idea of "overcoming" creates the recipe for self-blame. It is not my responsibility to prove to my oppressor that I am unaffected by their trespasses.
You're damn straight – the impact of trauma has changed me and it will likely impact the rest of my life. No, that does not mean that it will always control me. And yet, I know that I will not "overcome" the pain resulting from trauma; it is integrated into my experience.
The idea of "overcoming" is also ableist as fuck. The impact of my trauma – whether it manifest itself as depression or anxiety – is not a personal failure, it does not divorce me from human experiences. 
I am constantly relearning how to interact with the world, striving towards regaining trust with myself.
3. My Healing and Liberation Practices Are Directly Intertwined
My anti-oppression and liberation tactics are linked.
As I heal, I am actively working towards liberating myself from the effects of systems that seek to dehumanize me.
As I learn to love my body despite the violation it has experienced, I liberate myself from systems that tell me that I am unlovable.
And as I listen and attend to my feelings when I'm hurt, sad, angry, etc., I am liberating myself from systems that tell me that I do not have a right to feel.
For example, the myth of Strong Black Woman encourages me to be complicit in my own dehumanization by minimizing my depression and fears. When my father would rape me, he often told me that I was "stronger" than I think I am, so I shouldn't "let" his abuse impact my schoolwork. And, for a while, I adopted his logic.
I was determined to be "strong," so I pushed myself until I was admitted into Stanford. But during my first year, I developed a drinking problem and was hospitalized for depression, anxiety, and trauma-related symptoms. I began to recognize that strength does not mean that I am infallible – I am human.
Strength is not fostered through silence and injustice, but through accepting my own vulnerability (i.e. humanity) in the face oppression.
I want to pause here to acknowledge that it took class privilege – access to institutional resources and a "safer" space – for me to have the space to begin my healing journey. I do not know if I would have had the same opportunities had I not attended an elite university, which not only gave me legal credibility when prosecuting my father, but offered privacy, housing, medical, and psychological resources for me to have more choices regarding how I moved forward.
Neither oppression nor privilege are linear. Class privilege, lighter skin, and straight-passing privilege (this isn't either/or, but both/and in terms of being a privilege and oppressive) have certainly played a role in my healing journey. Yet, they have not minimized the impacts of trauma.
Sexual trauma has caused me to see myself as damaged. Even now, I sometimes feel that my love has the ability to taint others, and myself. I loved my father, yet there was something about either me or the way that I loved that enticed him to harm me.
As I heal from self-blame, I liberate myself from my oppressor's wounds. Although I am moving away from feeling "damaged," I'm not striving for a "fixed" or ideal state.
The process of healing is in the journey itself.
4. The Idea of Failure vs. Growth Assigns Unnecessary Value to a Life Process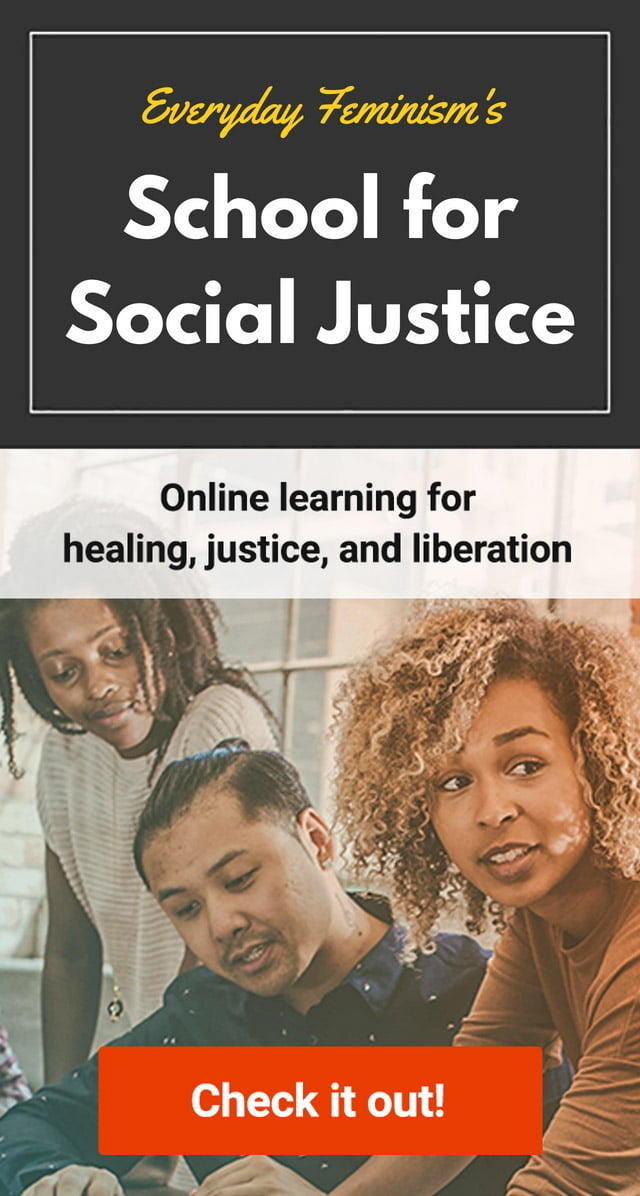 Though not monolithic, systems of oppression – which are oftentimes felt so much more viscerally in the south than in other parts of the country – have resulted in distinct types of shared cultural trauma and memory for Black people, and reminds us of the many ways our humanity is under constant restriction.
They – in the forms of racism, sexism, homophobia, and classism – have functioned in my life by denying me access to the things that make me a person, like my bodily autonomy and feelings. Healing from these systems has required me to reconnect with myself, thus allowing me to rebuild relations with others.
But when discussing systems, I often forget that systems are made of people — the people who enforce it, who exploit it, who allow or tolerate it, who deny it, who suffer from it. When I am reminded of the relational nature of systems, meaning that systemic oppression operates within our interactions with each other, I remember that the personal is political.
While my trauma was informed by systems (i.e. the "political"), it was deeply personal. I was physically and sexually violated by my father more times than I can count. For me, my father played many roles in my experience of systemic oppression. He enforced and exploited it by abusing me, he denied it by forcing the strong Black woman myth on me, and he suffered from it as a Black man in America.
My story is not unusual.
Black girls experience incredibly high rates of sexual trauma, 40-60% are abused before the age of 18. Low income Black girls are at an increased risk for violence. And, if they are queer, lesbian, and/or trans or gender non-binary – their invisibility and assigned "deviance" puts them at even greater risk.
My diverse identities as a queer Black girl child with an abusive father left me unprotected and unsafe. It is personal, but it is so very systemic, so very political. As is my healing.
For a while, I measured my healing in terms of "progress." Am I "moving forward" when the impacts of trauma feel more manageable? Am I "pushing through" when I feel stuck?
Every day, I am actively working on accepting myself where I am, allowing myself to feel what I am feeling without assigning a value judgment to it.
Some days I feel shitty. Some days I wish I were numb. Some nights, I lie alone, feeling consumed by my own darkness, and it feels like trauma has gotten the best of me.
I have sought to understand my own healing through a "recovery" model, but in trauma, there are things that simply cannot be restored. Instead of viewing these moments as "relapses" or "failure" in my healing, I view them as inevitable parts of the life process.
A friend of mine told me that terms like "progress" and "failure" assign measure and value to inevitable life processes. I'm sure that growing up in a capitalist context contributes to my tendency to assign value and/or devalue to my internal process.
5.

 

There Is No Promise That It'll Feel Good or Get Better
This one has been difficult for me to accept. I often wait for the time when the trauma will feel less consuming, when I will return to a point where the wounds never occurred.
But, things that happen in the past inevitably shape my present and my future.
I have began approaching my healing practice not by the promise of how it may feel in the future, but for how it feels in the moment. 
I'm learning that "shaping" does not have the same connotation as "consuming." I cannot control the ghosts of my past, but I can control how I relate to them. Sometimes, memories come up in the present. Those memories may impact my mood in the moment, but they neither control my actions nor dominate my entire day.
When I start treating them like expected guests opposed to unwanted visitors, the intensity of the pain shifts.
But that doesn't mean that it feels "good" or is "better."
6. There Are Multiple Paths to Healing and Liberation
There is no "right" or "wrong" way to go about one's healing journey. For me, BDSM and kink have been essential to my process because they allow me to consensually engage my own power.
For example, I identify as a switch: when I am a submissive, I must first claim my own power (as my own) before consensually giving my power to a Dom or Domme I trust, and only within previously agreed upon boundaries. As a Domme, I must first acknowledge the personhood of my sub and/or slave prior to treating them as a sub/slave, otherwise I am using BDSM as a guise for abuse.
Ultimately, both practices require that I acknowledge that my body, my power and my agency are first and foremost mine.
However, this sort of play can (understandably) be tricky, and perhaps traumatizing for others. The idea of "playing" with power and/or bodily sensations can be bring up memories of disempowerment. I have a friend who uses yoni eggs to help her heal from sexual trauma, but for a while, I struggled with any form of penetrative vaginal stimulation because it reminded me of my own abuse.
There are multiple paths to healing/liberation.
7. Healing Practices Change Over Time
This is something that took a bit of time to grasp. There have been different points in my life where suddenly, a practice that had been working for me had either become ineffective or no longer a viable option.
My body often responds adversely to medications since I often suffer from the rare side effects. So, I have to be incredibly intentional about other methods of healing and being. However, life is anything but constant, so as my schedule, location and access to resources shifts, I have to find new ways to continue healing.
For example, in undergrad I often went to bed between 8-10 pm and woke up around 5-7 am to begin my day with an intensive workout, Suddarshan Kriya, and writing. However, once I relocated to South Carolina, I no longer had the privacy and/or space to continue my workout, writing, and Kriya practice. I did not have access to a car to get me to the gym, and public transit in my hometown is non-existent.
Similarly, during my first year of graduate school, Biblical Hebrew took up an overwhelming portion of my time. I was unable to get enough sleep and finish my work on time, and I often found that I had to choose between basic health and schoolwork.
My healing practices had to change in order to match my schedule. I began practicing sitting meditation for 10 minutes at a time throughout the day. I had to wake-up early to sit in front of a sunlamp for an hour while completing my homework in order to make it to class by 8 am, 5 days a week, because Chicago's low-sunlight impacted my mood.
Each transition required a bit of trial and error for me to discover new healing paths.
8. I Needed Different People in My Life at Various Points of My Healing Journey
Just like trauma doesn't occur in a vacuum, neither does healing. Both trauma and healing take place in relation to others, so it has been important for me to remain in community with others throughout my healing journey.
However, as I heal, I change. And as I change, so do my relationships. Sometimes that means re-negotiating boundaries for a current relationship. Sometimes, that means that a friendship no longer works.
Accepting change has been a process.
***
The definition of radical politics depends on what each of us are physically, emotionally, mentally, and economically able to do.
I am able to get out of bed each day, although there are many mornings I do not want to. Each day I choose to wake up, live, breathe, act, and love in a system actively trying to destroy me is a radical act. Showing up to classes in an institution that erases bodies like mine is a radical act.
Choosing my voice over community silence and societal failure is a radical act.
Focusing on healing is a direct battle against oppression and trauma, which tell me that I am unworthy. Some days, I still struggle to get out of bed. Every day is a struggle, some more than others, but as time progresses, most days I'm glad that I keep showing up as best I can.
In the words of my roommate, Rezan Kflu, "Look at me resisting."
Breeshia Wade is a Contributing Writer at Everyday Feminism. She received her BA in Comparative Studies in Race and Ethnicity, focus in Creative Writing from Stanford University, and is graduating with a Master's of Religious Studies, focus in philosophical theology, from the University of Chicago. She is currently completing a Buddhist chaplaincy program, and hopes to be a candidate for lay ordination in the Zen Buddhist tradition as well as a minister in the American Baptist tradition. She incorporates Reiki and mindfulness in her work as a doula while actively cultivating her practice as an intersectional feminist philosopher and theologian, interested in beginning and end of life care. Check her out at breeshiawade.com Read more of her articles here.
Found this article helpful?
Help us keep publishing more like it by
becoming a member!