(Content Warning: Suicide, police brutality, violence)
You might have come across the term "gender binary" in discussions on transgender issues.
But do you know what it really means to call everyone either a "man" or a "woman" – and how it affects you?
Here's Justin Hubbell's excellent summary of what the gender binary is, how it shows up in our everyday lives, and how it's led to all of us suffering from outdated ideas.
This shows exactly why it's so important to respect everyone's individual gender expression. How do you defy traditional gender norms?
With Love,
The Editors at Everyday Feminism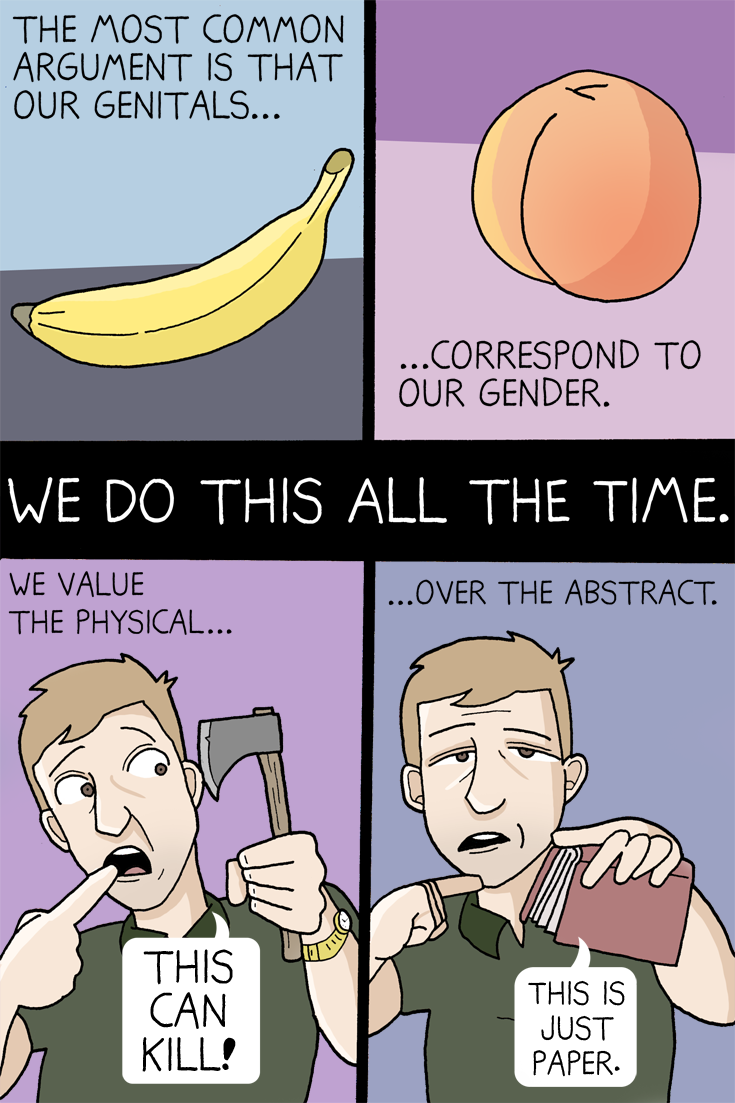 Click for the Transcript
Panel 1
Justin stands facing the reader smiling and waving.
Justin: Hi, I'm Justin!  Let's talk about the Gender Binary.
Panel 2
The perspective has changed, and the reader views Justin from a different viewpoint.
Justin: But let's look at it from another angle…
Panel 3
A cat and dog's faces float happily in space.
Text: Suppose we grew up "knowing" there were only two animals – dogs and cats.
Panel 4
A diagram shows eight distinctly different animals: a jellyfish, mouse, frog, millipede, gorilla, humming bird, whale, and microorganism. Each animal is split randomly into two sides of the diagram which labels them either as dogs or cats.
Text: We'd have to sort completely different animals into two camps!
Text: Silly, isn't it?
Panel 5
A second diagram now shows eight distinctly different people of various skin colors: a rugged cisgender man with a full beard, a cisgender man who is very effeminate, an infant child, a transgender woman, a transgender man, a twelve-week old human fetus, a cisgender woman, a cisgender woman who is very masculine. Each person is split into two sides of the and labeled as either "Man" or "Woman." It is clear that either not everyone is properly assigned, and that some shouldn't be assigned at all.
Text: But that's what we've done with gender!
Text: We do this for rather arbitrary reasons.
Panel 6
A banana rests harmlessly.
Text: The most common argument is that our genitals…
Panel 7
A peach sits there, also harmlessly.
Text: …correspond to our gender.
Text: We do this all the time.
Panel 8
A cisgender white man holds an axe.
Man: This can kill!
Text: We value the physical…
Panel 9
The same man now holds a nondescript book.
Man: This is just paper!
Text: …over the abstract.
Text: This all made sense when I was child. After all:
Panel 10
A five-year-old Justin speaks to a smaller four-year-old girl with dark skin. Justin is grinning with satisfaction while she looks on with dismay.
Justin: I'm big, you're small!
Panel 11
Justin now jeers at a latino boy in wheelchair. Justin doesn't notice the boy's feelings are hurt when he says…
Justin: I'm faster than you!
Panel 12
Justin looks astonished and speaks to a fat/larger girl. Once again, he doesn't realize that he is being insensitive, the girl appears upset. She has tan skin.
Justin: You're heavier than me!
Panel 13
The young Justin now addresses an impoverished boy who is rooting through a trashcan. He turns up his nose not wishing to associate with him. He also has tan skin.
Justin: You're poor!
Text: As a kid, I was proud to state all the things I knew were "true."
Text: But as I aged, I realized my understanding had an impact on those around me!
Panel 14
Justin is now 19 years old.  He speaks to a smaller 18-year-old girl, but his casual insult is interrupted when, fed up, she stamps on his foot. The girl has dark skin.
Justin: I'm big, you're sm—OUCH!
Panel 15
Justin is about to tell another person in a wheelchair that he is faster but sees that they look annoyed and stops himself mid-sentence, realizing what he is doing is hurtful.
Justin: I'm faster tha—wait.
Panel 16
Justin is about to compare his weight to that of another larger/fat queer (we know she is queer because she has a queer pride tattoo!) person of Asian heritage, but interrupts his thought and apologizes before he can finish it.
Justin: You're heavier th—Ack! I'm sorry!
Panel 17
Justin is talking to a man his age, but dressed similarly to how the poor boy was dressed before. He has similar tanned skin as the boy did. This time Justin has no problems being friendly.
Justin: You can crash at my place whenever you need to, okay? Say the word.
Text: My values evolved!
Text: And yet? Most people are still "stuck" on gender.
Panel 18
A five-year-old white cis male looks bold/defiant.
Male: I'm a man cuz I can go pee standing up!
Text: We get ideas about gender.
Panel 19
The five-year-old is now in his thirties, still looking bold/defiant.
Male: I stand up when I pee! I'm a man!
Text: And somehow they remain stagnant!
Panel 20
An image of Earth floats over a grid of many different kinds of people but they all look upset. Emotions range from crying, shouting, general anger, or malaise to people covering their faces entirely.
Text: This has lead to an entire planet…
Text: …full of people suffering over outdated ideas!
Panel 21
A young Latino boy is sobbing, covered in bruises.
Text: We have boys who aren't boyish enough.
Boy: They were all kicking me and calling me 'maricón!'
Panel 22
A young girl of Indian decent overhears a bully talking about her. She looks extremely upset by their words, which are intended for her to overhear.
Text: Girls not girlish enough.
Bully: She's got a mustache! Ha ha!
Panel 23
A young Black boy stands submissively in front of a white teacher who is yelling at him.
Text: Boys who are too boyish (or simply not white enough):
Teacher: You're a thug! Just like your brother!
Panel 24
A young white girl pauses nervously as a parent yells at her from another location. Her attire is especially feminine: a pink tank top, earrings, a choker necklace, and blue eyeshadow.
Text: Girls who are too girlish:
Parent: No way are you going out looking like that.
Text: And they all grow up with serious problems!
Panel 25
The Latino boy is now a grown man and appears to be beating someone in a rage. He's shirtless with angry tattoos, his entire physical presence meant to persuade us of his masculinity.
Man: WHAT DID YOU FUCKING CALL ME?!
Panel 26
The Indian girl is now a woman. She looks glamorous, trying to retreat as far from the features of her childhood as possible. Her attitude toward other women is now toxic.
Woman: I hate all these fake bitches!
Panel 27
The Black boy has grown to be a man – one who has been shaped by constant accusation. He is dressed in the type of "thug" attire that many police and citizens racially profile. Once again, he is submitting to an abusive authority that refuses to look beyond his appearance, his hands are cuffed behind his back as a police officer has him in a choke hold from behind. If he is struggling, it is only for breath.
Officer: We all know it was you!
Panel 28
The young white girl is now a woman. She is professionally dressed, but seems unhappy with herself.  She's about to joylessly light up a cigarette.
Woman: I would kill for plastic surgery. Anything to help this ass.
Text: They're all victims!
Text: Meanwhile, us queer people catch hell just for being queer!
Panel 29
A photo of Kiesha Jenkins with a caption that reads "Murdered, Oct 2015."
Text: If people aren't going out of their way to harm us?
Panel 30
A photo of Adam Kizer with a caption that reads "Suicide, June 2015."
Text: We tend to harm ourselves.
Panel 31
A contemporary/modern Justin appears. Their hair is tied in a pony tail. They're sporting fish earrings, but otherwise are wearing a rather androgynous outfit.
Justin:  And it's all because of this silly, antiquated, dangerous, shallow gender binary!
Text: It's time to try something new.
Panel 32
A garbage can sits there, its lid open to expose grossness. Flies gather.
Text: Let's put the gender binary where it belongs.
Panel 33
A Black cis man proudly sports a new business suit.
Text: Let's express our gender as we please.
Panel 34
An Asian trans genderqueer looks equally proud, sporting a blend of masculine and feminine styles.
Text: No matter what gender that is.
Panel 35
All kinds of gendered accessories are splayed out floating in space: cowboy boots, makeup, a pink necklace, a baseball cap, fingerless gloves, a man's wrist watch, briefs (the male underwear), a bra, a purple pocketbook.
Text: And let's respect everyone's choice to do so!
Text: Is there a sustainable alternative to maintaining the gender binary?
Panel 33
Justin speaks lying on their back.
Justin: Because I don't think there is!
Panel 34
Reader now sees that Justin is resting on a psychiatrist's sofa.
Justin: What we're doing now sure isn't working for me!
Panel 35
Justin sits up and addresses the reader.
Justin: Has it done you any favors?
Additional text outside of the comic: Justin Hubbell is a cartoonist and super nerd.  justinhubbell.com  patreon.com/justinhubbell
To learn more about this topic, check out:
Justin Hubbell is a Contributing Comic Artist for Everyday Feminism. A trans genderqueer "comictivist" from upstate New York, they create comics that unpack social justice issues through personal reflection and sharing. Their work can be seen at justinhubbell.com. Please consider supporting them on Patreon! Check out their comics here.
Found this article helpful?
Help us keep publishing more like it by
becoming a member!