"You're being too emotional."
Have you ever tone policed a woman who was talking about her experiences with sexism? You may not have realized tone policing was what you're doing – because we're all taught that women are "supposed" to behave a certain way.
With this video from Celia Edell, find out what tone policing means, what the consequences are, and some of the most common ways it shows up.
If you've ever experienced this or participated in it, this information can help us all figure out how to recognize tone policing – and put a stop to it.
With Love,
The Editors at Everyday Feminism
Click for the Transcript
Hey, y'all. This is another video in a series I do with Everyday Feminism, which is a website dedicated to helping you stand up to and break down everyday oppression. In this video, I'm going to discuss ways that men tone police women and other gender minorities, specifically those who are discussing feminism or their experiences with sexism.
To start, tone policing is an argument which shifts the focus from the content of what is being discussed to the tone of the speaker. It focuses on the emotions behind the message rather than the message itself. This kind of argument is used against women and gender minorities all the time.
Women are often tone policed just because they are women, because women are not supposed to take on certain tones, like anger or outrage, and because women are stereotyped as always having other tones, like being too emotional or too sentimental.
Tone policing works to double-bind the way women speak. If we're too angry or cold, we're dismissed as irrational and if we're emotional or upset, then we are dismissed as irrational. So it seems that in order to be heard, women and gender minorities have to always stay pleasant and calm in all discussions. And ultimately, that's not what is expected or accepted when it comes to men.
Tone policing is also used as a tactic of derailment, by suggesting usually that feminists will only be successful or would be more successful if we express ourselves in a more pleasant tone. It's a form of derailment because it places the focus on the tone of the statement instead of on the content of the statement, which therefore distracts from the issue that is being discussed.
It also works to undermine what the person was trying to communicate. It suggests that their argument isn't legitimate, simply because it doesn't sound pleasant or nice enough. But pleasantness is independent to the soundness of an argument. "Being unpleasant" doesn't in any way mean that what you're saying is therefore false. It also doesn't mean that it's therefore true — it's actually just an independent factor.
But often, men use this tactic when trying to avoid discussing sexism and White people often use this tactic to avoid conversations about racism. For example, telling someone that you'd be willing to discuss racism or sexism with them if they were calmer or nicer about it, or that you want to speak about these topics "like adults" is another way of just avoiding the actual content of the conversation, which is making you uncomfortable for a good reason.
This ultimately is keeping the conversation to what is comfortable for you, and does nothing to help advance the issues that are being brought up. If marginalized people are always forced to speak in a way that makes others not have to feel uncomfortable or not have to call their own privilege into question, then we're effectively keeping those people in positions of power.
There are topics which are understandably uncomfortable to talk about, but that doesn't make them any less important. In fact, it's the unpleasantness of living in an oppressive system which makes these issues so urgent. When a woman is making an argument about feminism and a man says, "I can't hear you when you're so angry," or, "Anger won't help anyone," or even, "I'm so glad that you're not acting like most feminists and being so angry and hateful," that man is effectively telling the woman to speak the way that makes him comfortable, or do not speak at all.
You know the old adage, probably: "You can catch more flies with honey than with vinegar." I think that makes sense when you're trying to sell something, let's say. But when you're trying to dismantle a widespread oppressive system, one which is largely invisible to the people who benefit the most from it, like sexism that benefits men or racism that benefits white people, it's usually necessary to use some vinegar.
This kind of honey idea is sold to us as the only viable way to communicate these tough issues, precisely because it keeps those in power comfortable and doesn't require them to confront their own privileges.
But anger has power. It can motivate people to demand justice, and it can motivate those in comfortable positions to consider what has made these other people so upset.
If it weren't for movements like Black Lives Matter, many white people would have stayed ignorant to the epidemic of police brutality against black bodies. The justified anger of black people has drawn much-needed attention to this issue, and forced non-black people to take a harder, closer look at what is going on, whether they like it or not.
This movement is certainly being met with a lot of white people uncomfortable with that anger, like those who try to derail it with #AllLivesMatter. But the Black Lives Matter movement has made even bigger strides toward justice. It is the anger behind the movement which should not be taken for granted. It's easy to stay ignorant when you are in a position of privilege. It's even easier when we demand everyone stay neutral and pleasant when making their case.
Ultimately, tone policing is another way to protect privilege. It keeps privileged people comfortable by allowing them to prevent marginalized people from sharing experiences of oppression or dismiss what they are sharing by focusing on the tone or emotionality of the message, rather than the message itself.
It gives a person control over a conversation which makes them confront the real emotional consequences of oppression. That's the problem with tone policing generally.
Now in this video, I want to actually talk specifically about the ways men tone police women and other gender minorities who are talking about feminism or sexism.
1. Demanding They Must See the Issue from the Dominant Point of View
You've probably heard this before, and no, I don't actually think that understanding where a dominant position is coming from is absolutely necessary to dismantling that dominant position, personally.
Oftentimes people in positions of dominance and privilege are unaware of just how much that is affecting their placement and movement in society, and it would be helpful for them to understand where their privileged perspective stems from, but for a man to say to a woman who is trying to speak on sexism, "Well, if you want to fix women's problems, you really have to understand where men are coming from, too."
Actually, I think it's more accurate that men have to learn where their own entitlement is coming from, why they feel that they ought to be the default, the neutral, while women are the other and gender minorities are definitely the other. I think men could gain a lot from listening to women about sexism actually, while women stand to gain very little new knowledge about sexism by talking to men. We know about sexism because we live with it every day. We fight against it. It directly affects our ability to move through the world as men do. No, I don't need to understand where you as a man are coming from when we're talking about sexism. You need to understand when to listen to me.
2. Claiming That 'Being Emotional' Detracts from Their Argument
"You're being too emotional."
I also hear this one pretty often. A lot of times, it's coming from a loved one or someone just trying to have a friendly debate with me, while seemingly overlooking the fact that this debate is very real to me and affects me in ways that they clearly do not understand.
In order to gain understanding, you must allow me to have my emotions, because they're not dirtying my argument. They don't affect my argument. Listen to me because I have something to say, and know that when your words make me angry or make me cry, it's not because my argument is weaker than yours. It's because this is not simply a friendly debate when it affects the way I live my life.
You may be playing devil's advocate, but I'm advocating for myself, for my friends, for the women in my life. Also, reason and emotion are not binary. One can be emotional and still use reason. Emotion is central to discussing feminist issues. It can't be separated.
Imagine trying to discuss the horrors of sexism without being able to reference how it makes women and gender minorities feel. Women get angry about sexism because it makes us feel vulnerable, powerless and angry all the time. This is just part of how we know it is unjust.
3. Conditional Support
The third way is conditional support. That's when someone says, "I'd be willing to listen to you," or, "I'd be willing to support you if feminists weren't so angry, scary, mean, et cetera."
Yeah, sure you would, bud.
But your support is much more meaningful when you understand and empathize with our anger, rather than see it as a problem with our argument. That also feeds into paternalism.
Men love saying things like, "You're being a child right now," or, "Let's discuss this like adults." Adults discuss tough subjects all the time without requiring one part to police their tone for the other's comfort. If anything, "Let's discuss this like adults," should mean, "Please respect my valid emotions. Listen to my actual argument and respond to the message itself, rather than the way I deliver it."
4. Racialized Anger or Harshness
Like I mentioned earlier, tone policing is often used against those trying to discuss racism as well. But for women of color, this is a point of intersectional oppression. They are tone policed as women and as people of color.
Too often, black women are stereotyped as angry or harsh, and white people, including women, often shy away from discussing racial issues or issues of sexism with black women. This kind of stereotyping and avoidance can understandably lead to justified anger on the part of women of color.
We must not read this as anyone living up to their stereotype, but rather as a result of having an identity at the cross hairs of oppression — how taxing it must be to try to have these conversations, which directly affect women of color in more ways than one, and have their very stake in their conversation, their identity, used against them.
"She's an angry black woman." Saying that is racist and sexist, and derails the conversation away from the important contribution that she has to give. We can't dismantle oppressive systems without her, and we need to stop speaking over her.
5. Reverse Tone Policing
The last one I'm going to talk about is reverse tone policing. I mentioned this at the start of the video. It's when a man tells a woman how refreshing it is to meet a reasonable feminist, how nice it is to discuss these things like adults with someone who isn't angry or overly emotional.
I get this a lot in my YouTube comments from men saying like, "Oh, at least I found one rational feminist." It's not a compliment to me, because this is exceptionalism, which places me apart from other feminists. It helps no one. If a man is only willing to listen to me when I am positioned as different from those other, "irrational" feminists, he's still policing my tone.
Now I'm required to maintain a neutral, calm disposition in order to maintain that support. His support should not be dependent on me speaking nicely to him about these issues. It should not depend on my delivery at all. It should depend on the message. If he supports the message, it shouldn't matter if I was crying or yelling when he heard it. If I tell you that rape culture, for instance, is real and affects me directly, you should take what I say seriously. My tone is not a reason to dismiss my words.
***
Those are some of the ways, not all of the ways, that women and gender minorities are policed in the way they talk about sexism and feminism.
Feeling defensive when confronted about privilege or about oppression that you do not experience yourself is normal. But we need to actively try to stop changing the topic when we feel uncomfortable.
If a woman is telling you about her experiences with sexism, listen to her. Hear her emotion as proof of just how fed up we are with patriarchal nonsense. I hope this was helpful. I'll see you next time.
To learn more about this topic, check out:
Celia Edell is a Contributing Vlogger for Everyday Feminism, a freelance writer, and feminist philosopher. She holds a B.A. in philosophy from University of Western Ontario and is currently doing her masters degree in philosophy at University of Sheffield in England. Her interests include critical race theory, mental health awareness, and bad made-for-TV movies. She tweets and blogs under the name @ceedling. 
Found this article helpful?
Help us keep publishing more like it by
becoming a member!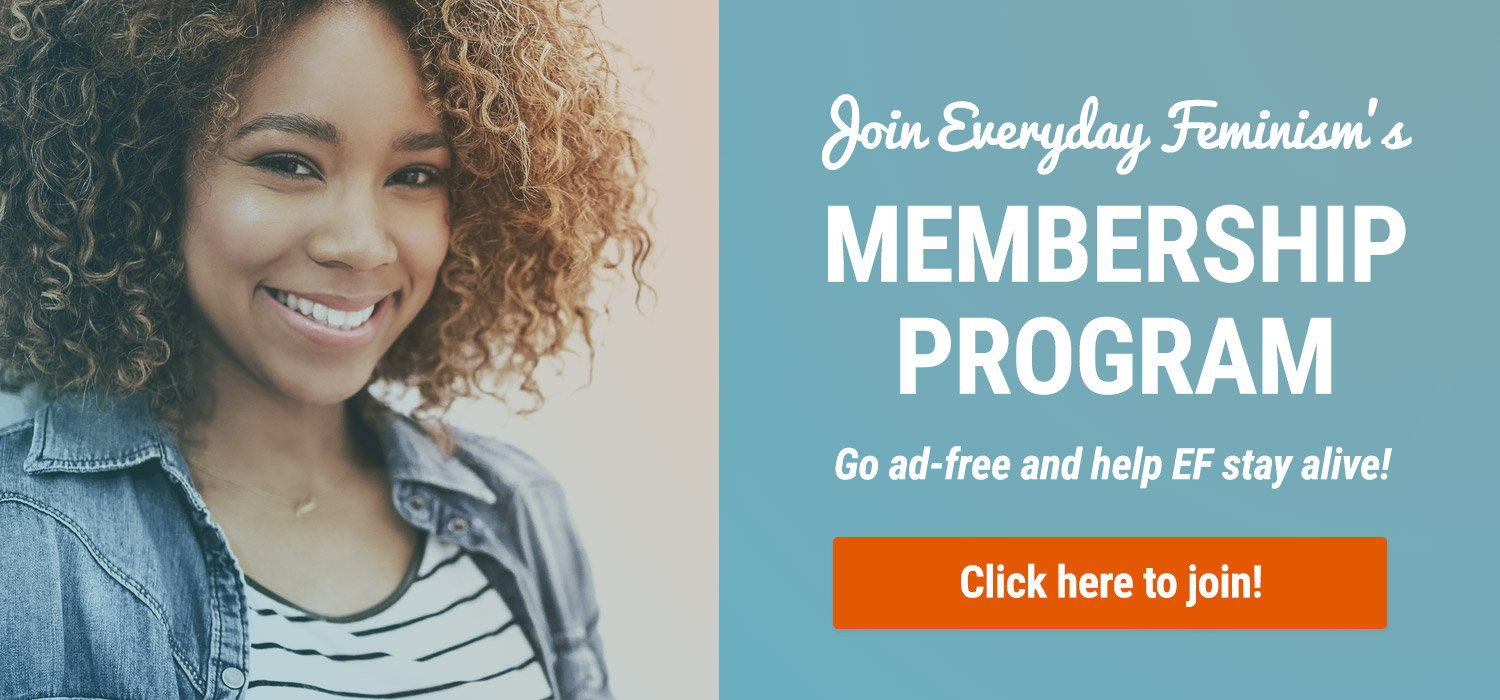 About
Celia Edell